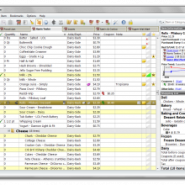 Buying groceries is a hassle. Making out a list, keeping track of coupons, wandering through the store trying to find what you want, wrestling with your shopping cart's off-center wheels, dodging other people … You just want to get in and out as quickly as possible.  We have a solution!
Speedy Shopper was designed, from first-hand experience, to help alleviate some of this daily and weekly grind. I was annoyed at the amount of time it took to do a simple thing like shop for groceries, and looked around on the Internet for a shopping list management program. I found only a few, and in my opinion, none were that great. I found them either too simple, confining your items and categories to their own preset lists, or far too complex, integrating recipe managers that monitored your caloric intake down to the potato chip. Most of all, they were just not that user-friendly.
So, we decided to make our own; one for the average shopper. And, one that was easy to use.
The power and ease of Speedy Shopper comes in its extremely user-friendly interface, which looks sort of like Windows Explorer. Each "folder" is a **category of items**, like Meat and Seafood, Frozen food, or Snacks. Speedy Shopper allows you to create as many categories with as many items as you'd like. It won't confine you to preset item lists.
Each item in your **Item List** is an item that you may shop for in that store. If you'd like to purchase that item on your next trip, simply place a check next to that item, and it will appear on your *Shopping List*. You can also specify a quantity of that item that you'd like to purchase.
The real speed of Speedy Shopper is that it can assign an **aisle number or department name** to each item. You can have as many aisles and departments as you want, with any name (like "1", "15A", or "Meat and Seafood"), and in any order. And, that order can be re-arranged in just a few clicks. Once you put some items in your shopping list, it can be sorted by aisle/department so that the items will appear in the order you shop for them! You can also choose to have your shopping list sorted by category, which may work better in larger stores (like price clubs or Super Wal-Mart).
Adding items to the item list is easy. Speedy Shopper lets you add multiple items at once, and assign them all the same category and aisle. For instance, when it comes time to fill in your Produce category, who wants to spend 45 minutes adding, one by one, every type of fruit or vegetable you eat? Just list them all down in one box and they'll all be added simultaneously. And, if the store decides to rearrange the aisle numbers on you, you can move all items in a category to any aisle you want with just a couple clicks. And once you have a lot of items in your item list, you can find any item within a few keystrokes with an integrated Find Item Box.
For the bargain hunters, each item can also have a coupon reminder and note associated with it. If you've clipped a coupon for that item, a simple click on the coupon column for that item will put a small reminder on your shopping list about that item. You can also write a note about that item, like "2 for 1", "BOGO" (Buy One Get One), "$2.79/lb", or anything you'd like. That note will appear below the item on your shopping list.
When you're ready to shop, you can print your list with tons of options. You can change the font face and size, number of columns, spacing between items, and portrait/landscape orientation, allowing you to either squeeze more items on the list, or make it more legible. Speedy Shopper also allows you to save your shopping list as a PDF document. And, with a single click, you can email your shopping list to someone else, like a spouse or roommate. Its Print Preview will let you tinker with print settings and save paper. You can even print a checklist of all items within a store, to put on your refrigerator. Just check items off throughout the week.
And, of course, Speedy Shopper makes it easy to manage multiple stores. You can have as many stores as you'd like, all of which are just a couple clicks away.